Checkout how it works!
A better way of shopping is in your hand!
Choose your favorite products from the Shop, put them in the cart & proceed to checkout!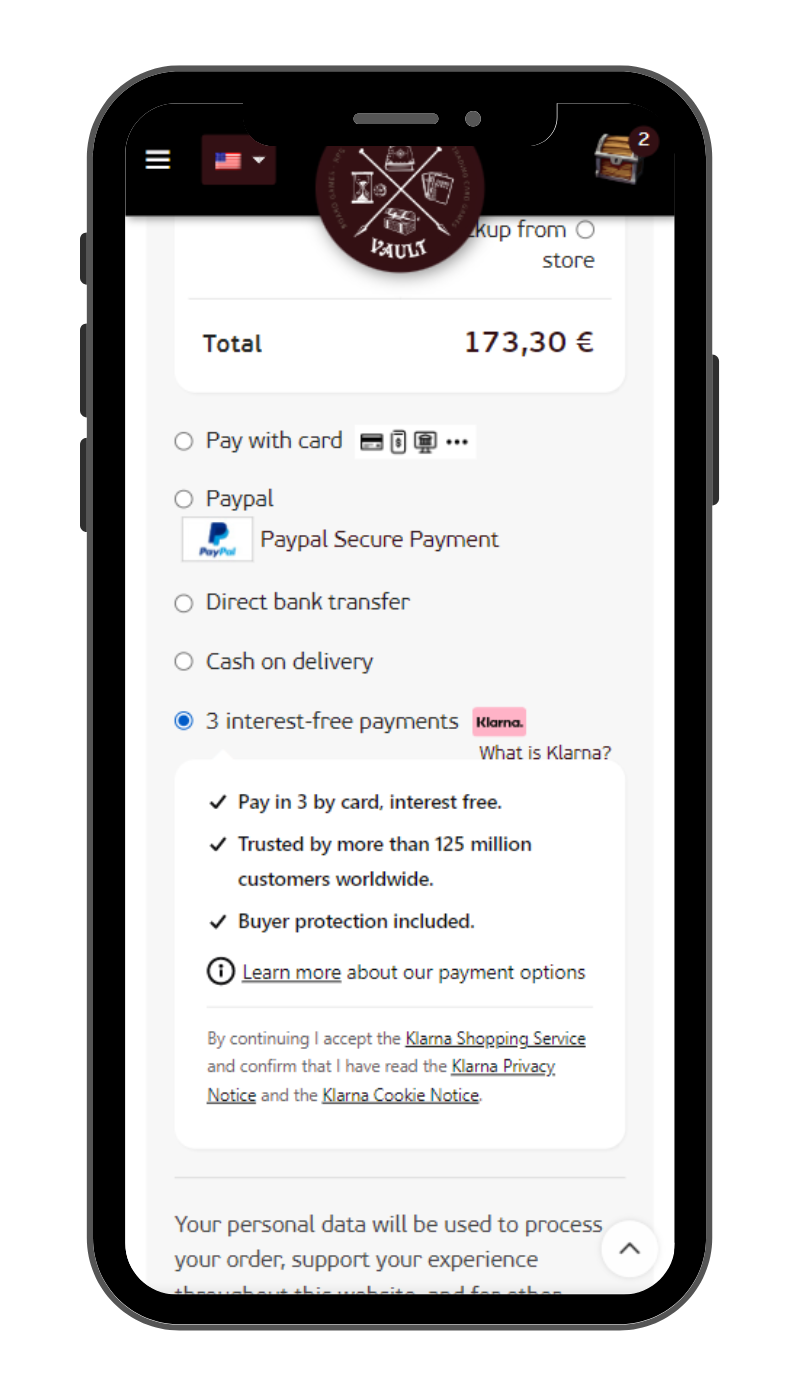 Choose Klarna as paying method with 3 interest-free payments & place the order!
Fill in your details in the Klarna environment and complete your purchase
Learn more about Klarna!
Life becomes infinitely more comfortable
Klarna Bank AB, known to the public as Klarna, is a Swedish fintech company, which was founded in 2005 and offers financial services mainly related to consumer payments. Since 2011, it is estimated that 40% of all e-commerce sales in Sweden were made through Klarna. Today, it is the world's leading service with more than 90 million active users in 17 countries, aiming to provide smart & flexible payment methods for their Online shopping.
What services does Klarna provide?
Klarna's main service is to offer a different and innovative payment method for e-commerce companies. It has become known as a 'Buy now, pay later' (BNPL) payment provider, as it offers credits to its customers during their purchases as part of the check-out process of their online purchases. Klarna offers the Pay in 3 option, which allows the consumer to pay off their purchase in 3 equal interest-free installments, even with the use of a debit card.
Is there any extra charge?
There is no extra charge for using the "3 Free Installments without credit" service with Klarna! With Klarna, you have the flexibility to make your purchases without any additional interest.
What information do I need to fill in to pay with Klarna?
To pay with Klarna you will need to provide the following information: name, contact number, email and date of birth. The first time you are transferred to the Klarna environment you will also need to fill in your VAT number to confirm your identity. All payment information is processed securely. Klarna uses the highest standards of protection of your personal information & data.